About Research
Description
Ads /

Latest items listed
Sorry, no listings were found.
Posts /

Recent blog posts
While taking off from Runway 32 at the airport in Fredericksburg, Texas, the Cessna 185 encountered a crosswind. As soon as the tailwheel came off the runway, the plane veered to the left.
The pilot attempted to correct with the application of right rudder and brake, however the plane continued off the runway. The right wing dragged on the ground and the right main landing gear separated, resulting in substantial damage.
Wind at the time of the accident was recorded as 240° at 10 knots, gusting to 14 knots.
The NTSB determined the probable cause as the pilot not maintaining directional control of the airplane during the takeoff with a gusting crosswind.
NTSB Identification: CEN14CA177
This February 2014 accident report is provided by the National Transportation Safety Board. Published as an educational tool, it is intended to help pilots learn from the misfortunes of others.
Source:: http://generalaviationnews.com/2016/02/01/crosswind-catches-c185/
Pilot error was to blame for the July 23, 2014 crash of a TransAsia Airways ATR 72-500 that claimed 48 lives, Taiwan's Aviation Safety Council (ASC) has determined. The twin turboprop crashed into a residential area while on approach to Magong Airport on Penghu Island, in the Taiwan Strait, during a thunderstorm.
Seven months later, a TransAsia ATR 72-600 crashed into Taiwan's Keelung River after taking off from Taipei Songshan Airport, resulting in 43 deaths. The ASC continues to investigate that accident.
In a final report on the 2014 crash released on January 29, the council stated that "contrary to standard operating procedures" the pilots executed an approach to the airport below the minimum descent altitude (MDA) when they could not see the runway. The aircraft, operating as Flight GE 222, had departed from Kaohsiung International Airport on the Taiwan mainland with 58 passengers and crew on board. It collided with terrain 850 meters northeast of the threshold of Magong Airport Runway 20.
"Flight crew coordination, communication, and threat and error management were less than effective. That compromised the safety of the flight," the ASC stated in a summary of its findings. "The first officer did not comment about or challenge the fact that the captain had intentionally descended the aircraft below the published minimum descent altitude. Rather, the first officer collaborated with the captain's intentional descent below the MDA." Neither of the pilots recognized the need for a missed approach until the aircraft reached the point where a collision with terrain became unavoidable, the council added.
The ASC report contains 29 safety recommendations. Among them, the council calls on aircraft manufacturer ATR to "evaluate the feasibility of a modification" to provide a new enhanced ground proximity warning system on all ATR 72-500s.
January 29, 2016, 3:11 PM
Source:: http://www.ainonline.com/aviation-news/air-transport/2016-01-29/pilot-error-caused-2014-transasia-crash-council-determines
Sandel Avionics has selected Stevens Aviation as one of its exclusive Avilon dealerships.
The Sandel Avilon Avionics Suite is an all-glass integrated flight deck for the King Air family, starting with the KA-200, designed and assembled at Sandel for easy installation, according to company officials.

"This changes everything as it gives the customer a fully replaceable, high performance avionics system that meets all 2020 NextGen regulations, installs in as little as five days, and all for a price many more can afford," said Phil Stearns, sales manager, Stevens Aviation.
Avilon offers a fly-away, fully installed system for an expected $175,000.
All three Stevens Aviation locations, located in Dayton, Ohio (DAY), Nashville, (BNA) and Greenville, S.C. (GYH) are designated authorized Avilon Installation Centers and are set to install this system starting in June.
Source:: http://generalaviationnews.com/2016/01/29/sandel-taps-stevens-aviation-for-avilon/
The first Boeing 737 Max 8 flight-test airplane took to the air for the first time Friday, taking off at 9:47 a.m. local time from rainy Renton Municipal Airport and landing at Seattle's Boeing Field some two and half hours later. The event marked the start of a four-airplane, nine-month flight test campaign expected to culminate in FAA certification and delivery to launch customer Southwest Airlines in the third quarter of 2017.
Powered by a pair of CFM Leap-1B turbofans, the 737 Max took off on a northward track, circled and headed west-northwest over Puget Sound and Olympic National Park until it turned east toward Port Angeles and the Straight of Juan de Fuca. At the time cruising at 14,800 feet, it turned south-southwest after flying to the east of Port Angeles and crossed its original northwesterly path until it reached the southern end of the Olympic Peninsula. From there it turned around and flew north-northeast toward Canada before flying a pair of oval patterns west of Puget Sound, heading back toward the northernmost reaches of Washington state, turning east and then south, taking it past Boeing's Everett widebody plant and into the Seattle area for landing at Boeing Field. The airplane reached a top speed of 250 knots and an altitude of 20,000 feet.
"In places it was a little tough up there," said 737 chief test pilot Ed Wilson. "The weather wasn't real kind to us over eastern Washington but it was great over in the west, so we stayed over there on the west side and got everything we needed to get done today."
Featuring newly designed engines, major avionics upgrades and several aerodynamic changes including the addition of a pair of "split scimitar" winglets expected to deliver up to a 1.8-percent fuel efficiency improvement over the current "in line" design, the 737 Max promises to burn on average 14 percent less fuel than the 737-800NG consumes.
Having now collected orders for more than 3,000 Max jets, Boeing will build the first airplanes exclusively on a new production line in its Renton, Washington factory. The new line will allow the team to isolate assembly of the first 737 Max from the rest of production to help it learn and perfect the new build process while the Renton factory continues to turn out airplanes at rate of 42 a month. Once mechanics validate the production process, the company will extend Max production to the other two final assembly lines in Renton.
Since last year Boeing has restructured the factory floor in Renton yet again and installed the wing-to-body join tool that the two current production lines use, ensuring its production readiness by the time the company loads the Max. Meanwhile, the company has consolidated fuselage systems installation from two parts, each serving one assembly line, into a single new three-level, moving design tool, allowing the company to more efficiently use the available space in Renton.
January 29, 2016, 4:20 PM
Source:: http://www.ainonline.com/aviation-news/air-transport/2016-01-29/boeing-737-max-completes-first-flight
Boeing's 737 MAX completed its first flight Friday, beginning the next test phase for the latest version of the flagship jet. Boeing says the flight went well and the aircraft is on schedule for deliveries to start in 2017. The airliner departed from Renton, Washington Friday morning and, during a circuitous route over the state, reached 25,000 feet before landing at nearby Boeing Field in Seattle.
Source:: http://www.avweb.com/avwebflash/news/Boeings-Newest-737-Jet-Completes-First-Flight-225603-1.html
Avfuel's AVTRIP Scholarship recipient from 2013, Kelly Hicks, is soaring to new heights after completing training to obtain her multi-engine rating.
"It's been the best experience," said Hicks. "Receiving my multi-engine rating means I've accomplished my dream— I can now fly the King Air, my favorite aircraft since childhood. This just solidifies that I have achieved my goals."
Kelly Hicks with her beloved King Air.
With her qualifications, Hicks serves as a contract pilot for an oil field company, flying its King Air and TBM aircraft. Wearing many hats, she switches between her flight attendant and pilot roles, making each day unique.
Though it wasn't an easy journey, Hicks said she kept her nose in her books and obtained multiple ratings over the past three years.
The process started by obtaining her private pilot license in 2014 in her hometown of Stephenville, Texas. From there, she used the AVTRIP Scholarship toward her instrument rating in the spring of 2015 through American Flyers in Addison, Texas, where she also obtained her commercial rating in the summer of 2015.
"Though everyone said the commercial rating would be the easiest part, I actually found it the most challenging," said Hicks. "Practicing chandelles and lazy eights in the midst of a hot July in Texas makes for an uncomfortably bumpy experience, but I wouldn't have traded it for the world!"
Kelly with her uncle's J3 Cub.
Following her commercial training, in the fall of 2015 Hicks received a tailwheel endorsement flying her uncle's J3 Cub, as well as her multi-engine rating from Tom Brady at Traverse Air in Traverse City, Michigan, allowing her to finally fly her beloved King Air.
"The AVTRIP Scholarship from Avfuel really did help me achieve my goals by helping finance my instrument rating," said Hicks.
Hicks is now looking forward to her next adventure. One of the companies for which she serves as a flight attendant has approached her about becoming its first officer in a Beechjet once she obtains enough flying hours.
"They're dangling a carrot in front of me," said Hicks. "I'm excited for what's to come and enjoying living my dream."
Source:: http://generalaviationnews.com/2016/01/29/scholarship-winner-puts-award-to-good-use/
Bryan Painter of Auburn, Wash., sent in these photos of a Cessna 170B over Elliot Bay, Wash., and the same plane over Seattle.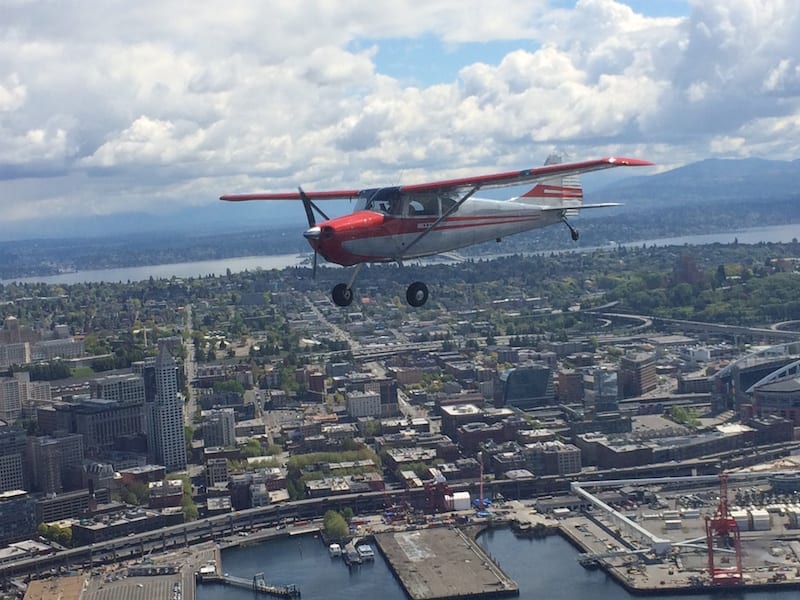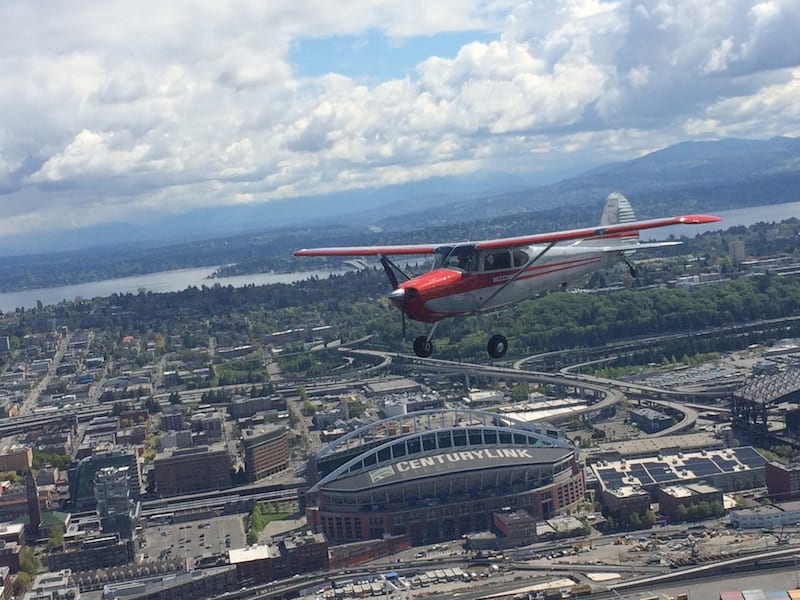 Source:: http://generalaviationnews.com/2016/01/27/pictures-of-the-day-taking-to-the-skies-in-a-170b/
January 27- The January/February 2016 issue of FAA Safety Briefing focuses on the FAAs new Compliance Philosophy and what its foundational concepts mean to the general aviation community. Articles in this issue discuss how the agency and aviation community can identify a problem in the National Airspace System , use the most effective tools to correct that problem, and monitor the situation to be sure it stays fixed in the future.
Feature articles include:
How do You do Safety? Developing Sound Risk-Based Decision Making Practices in Aviation (p 10),In Data We Trust: Does Flight Data Monitoring Hold the Key to Improving GA Safety? (p 18),Compliance Philosophy with General Aviation The FAAs Evolving Culture on Aviation Safety (p. 23)
In this issues Checklist department (p. 22), editor Susan Parson looks at the FAAs evolving safety role and its focus on risk-based decision making, while Vertically Speaking (p 30) highlights the role of Safety Management Systems (SMS) for rotorcraft operators. Be sure to also check out FAA Administrator Michael Huertas message on Compliance Philosophy in Another First in Our Safety Evolution on page 8, as well as how you can help be an ambassador for drone safety (p 29).
FAA Safety Briefing is the safety policy voice for the non-commercial general aviation community. The magazine's objective is to improve safety by:
making the community aware of FAA resourceshelping readers understand safety and regulatory issues, andencouraging continued training
Be sure to follow us on Twitter@FAASafetyBrief
Source:: http://www.faa.gov/news/updates/?newsId=84705&omniRss=news_updatesAoc&cid=101_N_U